Prospect of Efficient Computer Room under the "Double Carbon" Target — 2021 Wenzhou Refrigeration and Air Conditioning Technology Forum
It seems that 2021 is not much easier than 2020. Repeated global epidemics and frequent natural disasters caused by extreme weather all indicate that it is urgent to improve the global environment. Green economy has become the main theme of human development, and "carbon peak" and "carbon neutral" are one of the important tasks of the country in the next few years. Centering on the "double carbon" goal, all industries are actively exploring their own development path.

The hot summer is coming, refrigeration and air conditioning will become a huge area of terminal energy consumption, how to improve the refrigeration and air conditioning field of efficient and energy-saving technology, has become a topic of concern in the industry. This time, sponsored by a number of refrigeration and air conditioning industry associations and organized by Shanghai Kaiquan, the "Outlook of Efficient Engine Room under the" Double Carbon "Target -- 2021 Wenzhou Refrigeration and Air Conditioning Technology Forum" focuses on industry associations, scientific research institutes, universities, equipment manufacturers and operation and maintenance enterprises all over the country to gather representatives of Wenzhou Yongjia, Communicate and discuss about technical issues on how to improve high efficiency and energy saving in refrigeration and air conditioning field, and share ideas on technical innovation.
Focusing on high efficiency and energy saving technology in the field of refrigeration and air conditioning, the optimization of energy consumption of water pumps has to pay special attention to it. As we all know, the energy consumption of water pumps accounts for a large proportion in the energy consumption of refrigeration and air conditioning. As an important equipment that bears the conveying and regulating functions, the high efficiency, high reliability and energy saving operation of water pumps is very key.
Lin again highlighted a set of data at the meeting: China will generate 7.5 trillion kW of electricity in 2020, of which 20 percent will be consumed by pumps, which will consume up to 1.5 trillion kWh. Kaiquan has been deeply involved in the industry for more than 30 years, and has been conducting continuous research and exploration on the improvement of pump efficiency. If the annual output of Kaiquan's single-stage pump, double-suction pump and sewage pump is calculated according to 4,000 working hours per year, the electricity can be saved by 1.116 billion kWh. Switching to thermal power can reduce the CO2 emission by 1.11 billion kg.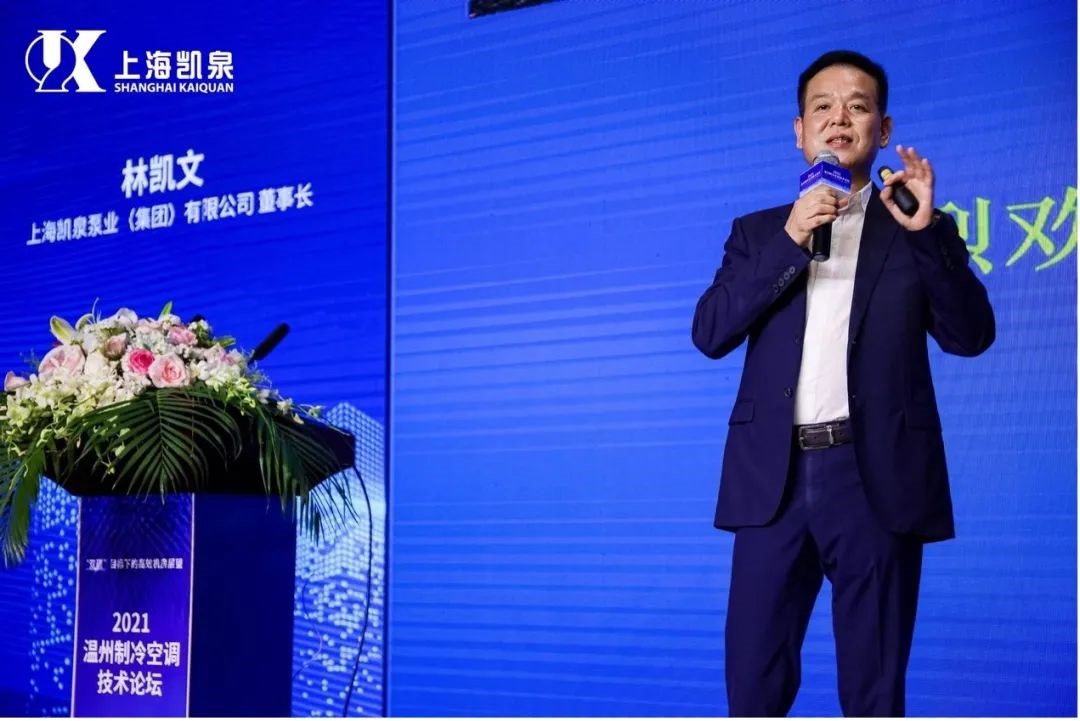 Kaiquan pump in the design, processing and manufacturing process because of differences, as well as long-term use in the process of operation wear, rust, partial working conditions, will cause efficiency reduction, to increase the customer a lot of operating costs. According to this, Kaiquan single-stage centrifugal circulating pump can bring more than 10% energy efficiency savings by changing the pump after 6 years of use.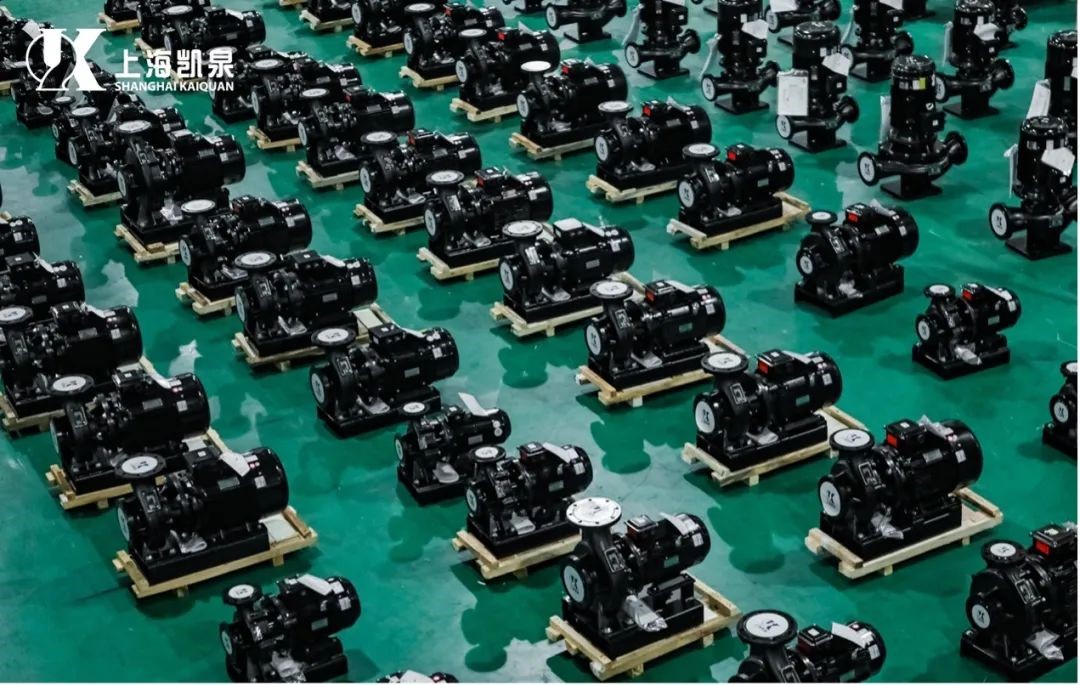 Kaiquan Zhejiang Production Base began to implement the digital factory transformation in 2018 to further promote the high quality development of the factory's manufacturing capacity. Up to now, Kaiquan single-stage single-suction centrifugal pump has been upgraded from performance, configuration and efficiency to the sixth generation of products, leading the average level of the industry by 5%.
From 3D design to 3D printing wax mold rapid trial production, assisted by three-dimensional detection to ensure accurate design -- Kaiquan single-stage single-suction centrifugal pump design behind every step, we follow strict standards. Moreover, Kaiquan has strong research and development. In order to provide excellent and advanced water conservancy models, Kaiquan has continuously invested in research and development. A technical team of 1000 people led by several independent laboratories and well-known domestic experts has been reserved for five years with a total capital investment of nearly 200 million yuan.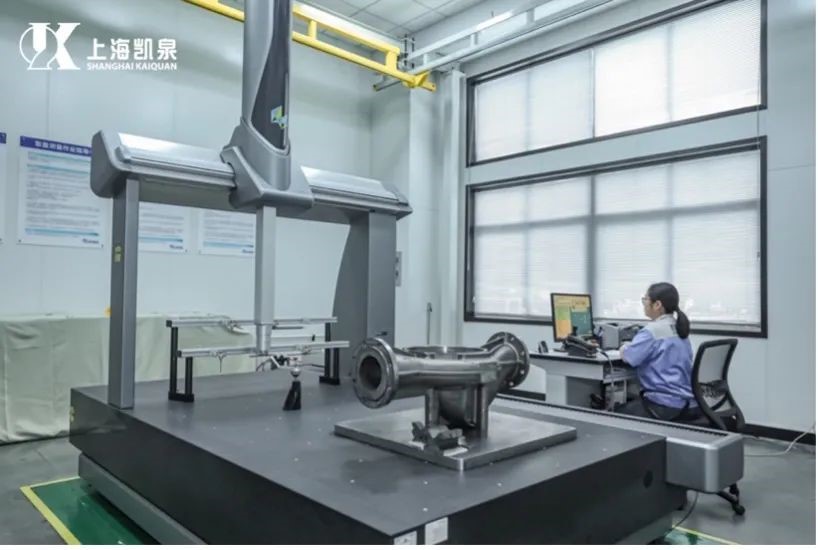 The product design of the lengthened shaft makes the structure compact and stable, which solves the need to adjust the pain point of the equipment when installing and using. At the same time also shortens the impeller cantilever ratio, to ensure that the pump operation is more stable and reliable.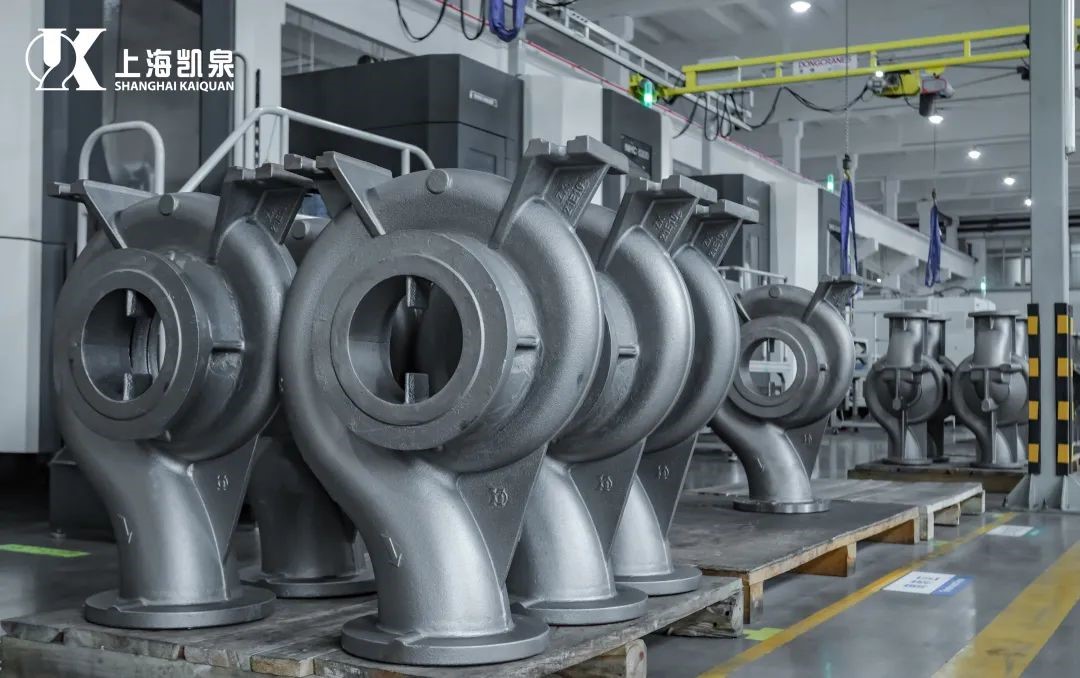 Upgrade the advanced casting process to ensure the perfect pressing molding of parts. The product surface treatment has also been optimized and upgraded, using up to 22 processes of electrophoretic paint coating, making the product surface smooth and durable; The overall efficiency of the pump can be improved while reducing friction and corrosion resistance.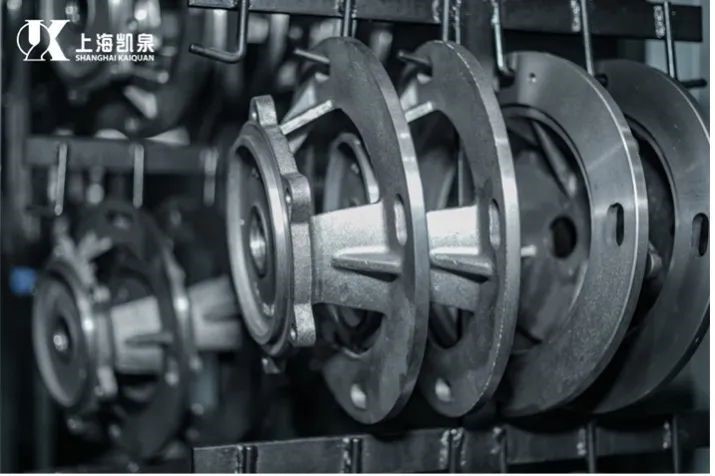 Alternatives to traditional cast iron core parts, stainless steel impeller impeller material, cooperate to wear ring, upgraded to automatic balance, ensure that the working state of the impeller rotating at high speed in maintain good stability and balance, to achieve lasting run efficiently, and highlight the use of cost advantage (and the traditional cast iron impeller efficiency for five years down nearly 6%, 10 years efficiency drops sharply 7-8%).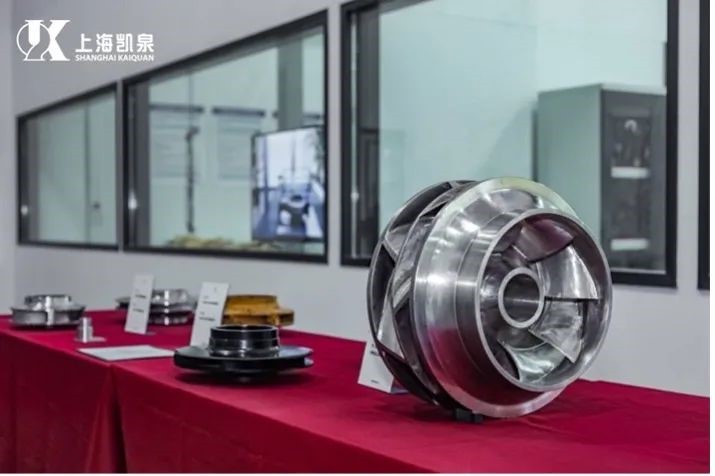 The machine seal, bearing and other parts use imported brands, in the next ten years at least, to ensure the stable, quiet, continuous and efficient operation of the products.
Kaiquan Wenzhou production base is equipped with advanced pump assembly line, which improves the assembly efficiency of impeller, shaft sleeve, machine seal, connector and other key parts and pump body, and further guarantees the product quality.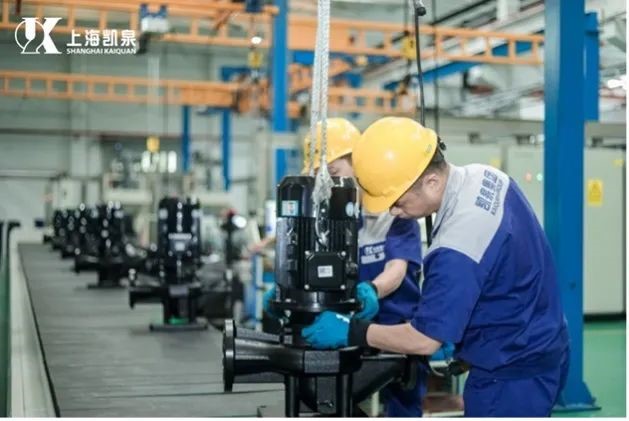 Each single stage pump will undergo rigorous factory testing before it is delivered to customers. After the test run of the multi-station online testing platform, it can leave the factory, which makes Kaiquan's single-stage pump more efficient and reliable.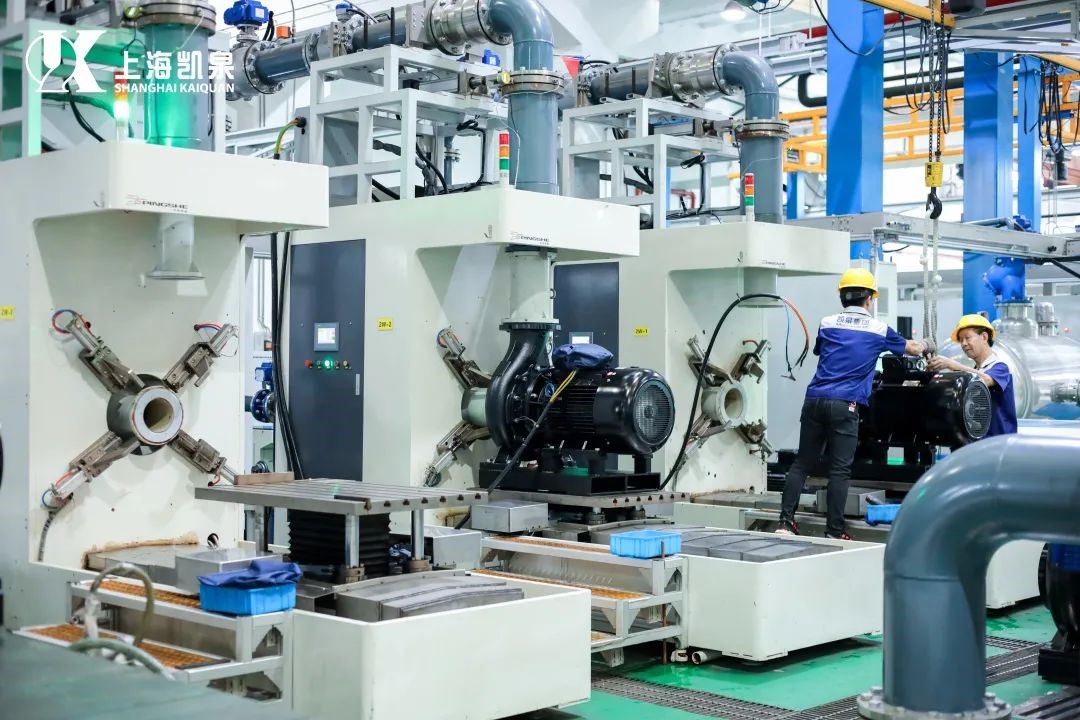 Currently, kindway single-stage single-suction centrifugal pump has developed high quality SG series, combined with the latest research results, top hydraulic model and the international first-class level of the optimized configuration, to provide users with the whole life cycle management, further improve the long-term use of pain points, its performance and quality reached the level of overseas brands, realize the optimal pump of choice.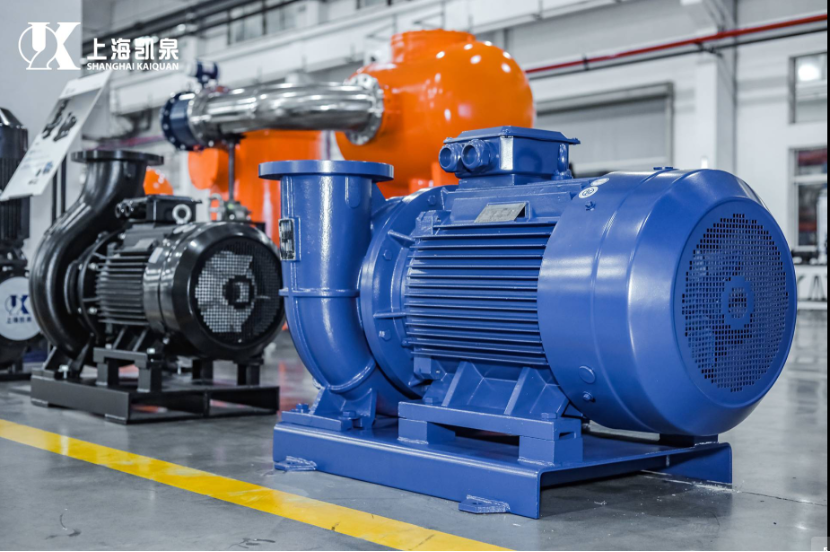 Kaiquan, adhering to the original intention of ingenuity and technology, creates more efficient and reliable products. We are full of confidence in the green and efficient future of the refrigeration and air conditioning industry. We will continue to work hard in the pump industry and move forward with honor. With the brand commitment of "the way of good water for the benefit of all things", we will help achieve the strategic goal of "carbon peak, carbon neutral" and assume the due responsibility of a first-class private enterprise for the improvement of the global environment.
-- the END --
---
Post time: May-31-2021